Regular price
$99.99
Sale price
$44.99
Unit price
per
Sale
Sold out
This wine table is specially made for you to diversify your pleasant pastime with a glass of good wine and delicious snacks, fruits, or exotic delicacies. 
✓  Keeps the glasses safe - no more broken glass. 
✓  Eco-friendly and sustainable - get rid of plastic packaging 
✓  Portable and hassle-free for the perfect picnic 
✓  Plate your food in an aesthetically pleasing and convenient way!
✓  Romantic atmosphere guaranteed!
Why do you need PicnicPro?
Picnics have become the perfect way to socialise and make the most out of the extra daylight hours. Whether you were wondering what to do for a date with your loved one, you just want to meet up with friends and have an amazing time, PicnicPro is the way to go. As all picnic lovers will know, planning to dine en plein air requires more than reaching for the nearest blanket and making a pit-stop at your local corner shop for some pre-packaged snacks. Enjoying the company of our loved ones outside, should be done properly... and PicnicPro is the ultimate solution to making your outdoor dining experience incredible.
PicnicPro is handmade from premium quality of natural wood and is foldable making it easy to carry and store. It makes gatherings or breakfasts in bed a breeze. This will definitely surprise your friends and loved ones with its exquisiteness. PicnicPro is specially made to deliver an incredible experience without the hassle of wondering where to put all the different snacks and drinks.
Use it anywhere and anytime!
PicnicPro fits perfectly into any interior and is perfect for romantic dates in the park and gatherings with friends and family. PicnicPro can also be the ultimate way to surprise your loved one with breakfast in bed. You can use it anywhere! It is portable and can take its place not only on the dining table but also on the bar counter, the carpet, by the fireplace, on the sofa. PicnicPro is perfect for the upcoming spring days in the park and summer beach days. It's 2 in 1 - a wine table and a board for cheese and fruit.
Eco-friendly 
PicnicPro is made of natural woods beech, ash and cherry. It is covered with environmentally friendly wood oil with beeswax. You do not have to worry about the environmental friendliness of the product. Also the size of the table allows you to take it with you to a picnic, walk and even to bed. We have developed an ergonomic design for your convenience. The table is stable and easy to carry.
  Don't take our word for it, See what our customers are saying!
⭐️⭐️⭐️⭐️⭐️"The table is adorable. Everyone whom I showed it to wanted the same and asked me where I got it. Makes picnics fun especially now, when there are a lot of outdoor gatherings. We've been having "driveway" parties on the grass for many weeks now. It fits right in. Highly recommend.!"
- Olivia F.
⭐️⭐️⭐️⭐️⭐️"I wanted something easy to put out when we have picnics. My main concern was that there was nowhere to put my wine!! This table is great. It is VERY sturdy - looks beautiful - well laid out. I take it in each evening when I am done but I imagine it would hold up well to rain. This was a WONDERFUL buy!!." - Heather H.
⭐️⭐️⭐️⭐️⭐️"We saw this and immediately ordered it. A few weeks later when we used it at the beach, at least 4 people around us commented on how useful it would be and ordered it themselves from PicnicPro. These things truly do make everything easier and more pleasurable."
- Shayne M.
FAQ
Q: What are the dimensions of PicnicPro ?
A: The dimensions are 30cm x 16cm.
Q: Does it fit Chardonnay bottles?
A: Yes, in the middle of the table is possible to hold a bottle of wine or champagne.
 
Q: What is this table made of?
A: The table is made of natural woods like beech, ash and cherry.  The coloring of the wood may vary a little from the photo due to light conditions and specificity of the wood. 
Shipping
All orders are processed for 1-3 business days and should arrive at your doorstep in 5-15 business days.
View full details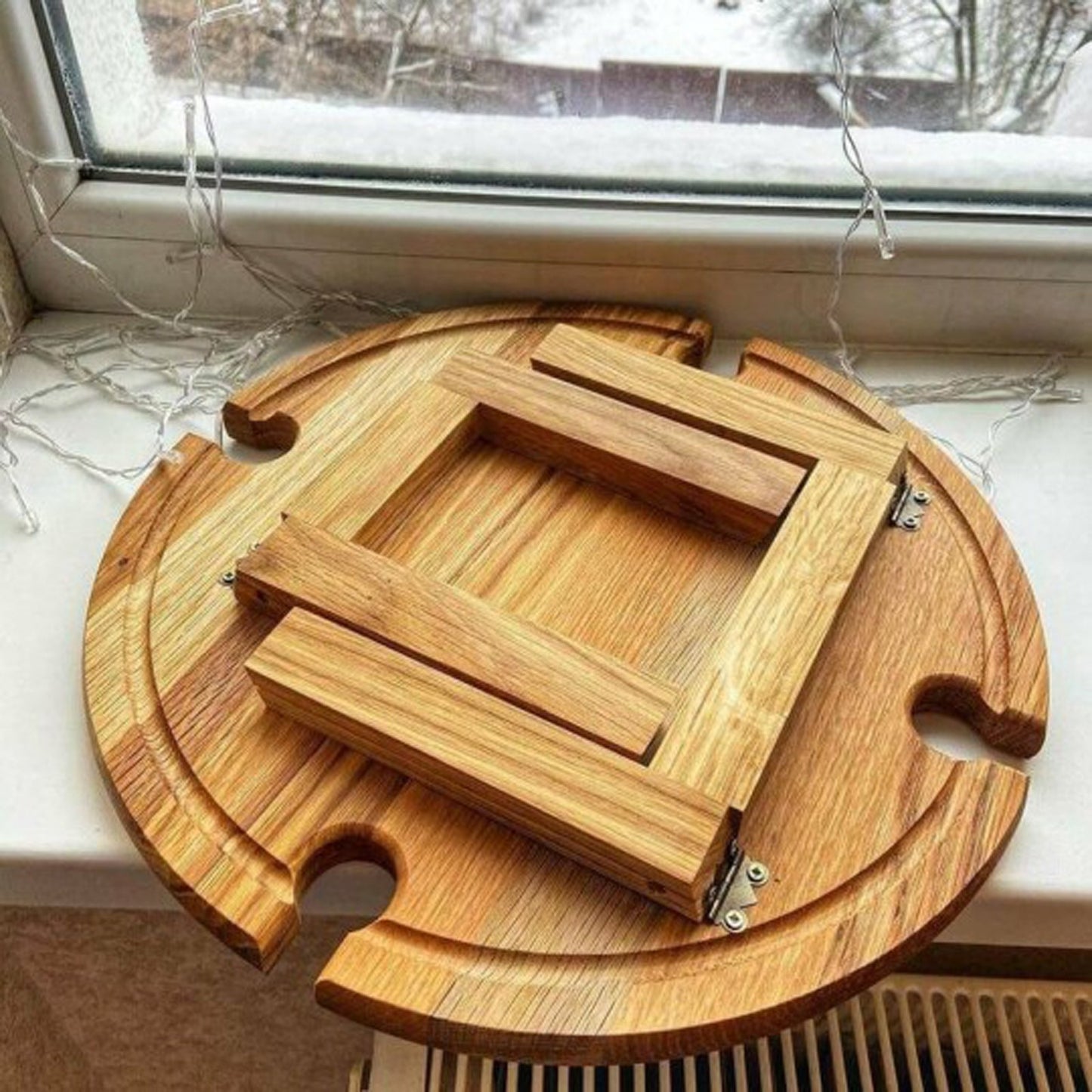 30 Day Guarantee

Returns/Exchanges Accepted

We Strive for Customer Satisfaction